Norman Manning - Pastor -

bellsouth.net@christianfaithce
Pastor Manning is a 1988 graduate of Rhema Bible Training Center in Tulsa Oklahoma with an emphasis on Pastoral Ministry. Before becoming the Pastor of Christian Faith Center in 1996 he ministered in a number of different conferences and church meetings in the south and mid west to deliver the word of God to those that were hungry for a move of the Holy Ghost and that desire the truth from the word of God. In addition to being an itinerant minister he also as part of Faith is the Victory Church in Nashville Tn. taught a inner city Bible study in the settle court area in east Nashville while also working with the youth as a basketball coach in the youth church league. 

Pam Edmond - Youth Ministry -

cfc-dickson.org@pam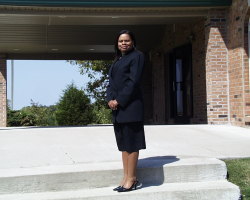 Pamela Adams Edmond referred by many as the " energizer bunny"  doesn't take the ministry lightly.  In her introduction to the class and newcomers the two most important things in her life is to teach children and see kids have a real and personnel reltionship with God.  She boasts she is married to the greatest man and helpmate in the world, Gordon J. Edmund.  Pam says " I want children to know that Jesus is their best friend, and that he will always be there for them"  and " I want them to build a strong foundation in God".  In her eyes there is no greater joy then to see children loving the Lord.  She loves it when they call for a ride to church, so as not to miss and bring others with them to receive what they experience.  She is currently overseeing the nusery, children and youth with the help of her husband.  In 2000, Pam completed a two year Certificate Program from Faith is the Victory Church in Nashville, Tennessee.  Pam also holds a Bachelor of Science, Management and Organizational Development along with a Master's in Conflict Resolution from Bethel University in McKenzie, Tennessee and a Master of Science Administration of Justice and Security from the University of Phoenix.  Pam and her husband , Gordon were married in 1996 and have 4 children. Chris Holt, Chelsea, Ajalona, Ajalen Edmund and 2 grandchildren, Bryson and Cason ,a niece Montgomery and a nephew Brystol who fondly refer to her as grandmother.  Pam loves spending time with children and mature seniors.  Pam states that God has given her a heart and passion for them.  She vividly accounts when she heard one night " Feed my sheep, feed my lambs and a vison was given of birds with mouths open and hungry to recieve and God spoke they are hungry for the word. Her parents are Mack and Irene Adams.  She loves spending time with her family , Sunday dinners, camping, frying fish and turn around trips to Minnesota to visit the Edmond family.  

Colby Randolph - Worship Leader -

cfc-dickson.org@colby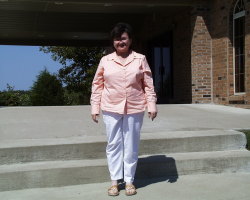 Peter and Colby Randolph have been active members of Christian Faith Center Church for the past 30 years. They were joined into marriage covenant on March 5, 1987. Colby has been leading this local body into praise and worship since October 1985.